STATE COLLEGE, Pa. -- Walking down Curtin Road on a Penn State campus just beginning to clog with football fans, the proud alum practically spun around on his heel as he grabbed his wife and daughter, and yelled:
"Hey, what's your name?''
"Jamelle,'' the student replied.
"Right," the alum grinned with knowing satisfaction. "Good luck tomorrow against Illinois.''
Jamelle Cornley shrugged and smiled.
If four years in Happy Valley has done anything, it has inured to the anonymity of Penn State men's basketball. Playing literally in the shadows of the nearly 110,000-seat beast that is Beaver Stadium, the Nittany Lions who play hoops have long suffered as second-class citizens.
While powerhouse football and basketball happily coexist on other campuses -- Texas, Oklahoma, Florida to name a few -- State College is all about gridiron gluttony. The tiny town swells to the third-largest metropolis in the state on home football weekends, with fans happily reserving $300-a-night hotel rooms a year in advance.
Even in the lean years, from 2000 to 2004, when the Lions suffered four losing seasons in five years and people called for the head of long-deified Joe Paterno, the fans still came. Beaver Stadium's average attendance for the season dipped below capacity in 2003 and 2004 when Penn State was 3-9 and 4-7, respectively. Of course, below capacity meant 105,629 and 103,111 on average, off the sellout mark of 107,282.
In four years, Cornley has never played in front of a home sellout crowd.
"If we could just get a quarter of what they have -- wow," the forward said, nodding to the stadium in the distance.
It would seem easy enough: major university, big-time conference, captive audience, deep-pocketed and rabidly loyal alums. Yet the Lions haven't finished with a winning season since 2001 and have been to the NCAA tournament just twice in the past 17 years.
Were it not for the chronic futility of Northwestern hoops, Penn State would own the Big Ten basement.
"If I had the answer, we would have fixed it by now," athletic director Tim Curley said. "I can't pinpoint why it hasn't happened. We have all the pieces to be successful. I think we're close -- very, very close.''
But building a basketball program alongside one as firmly entrenched as Penn State football only makes the job more difficult. It's not just about diagramming a decent offense.
It's about changing a culture, about convincing outsiders and even insiders that Penn State isn't just a football school.
It's a task that on many days seems almost Sisyphusian.
In the midst of a football tailgate, a fan asked what brought ESPN.com to town. Told it was for a basketball story, the fan (a card-carrying alum) scrunched up his face and asked, "Why?"
Three years ago, a professor giddily accosted Cornley outside of the student center. It was the Monday after a big football game and the professor practically shouted in Cornley's face.
"He said, 'I saw that play you made when you ran across the field. I told my son you're my new favorite player. How's the knee?'' Cornley remembered. "I kept thinking, 'Who does he think I am?' That night I got an e-mail. He apologized to me. He thought I was Jerome Hayes.
"Sure, it bothers me,'' he continued. "Everyone wants their own identity.''
If Beaver Stadium is the house that Joe built, the Lasch Building is the coach's ivory tower.
It is a building in homage to a team that owns a campus, a football-only complex that includes a practice field, a 13,000-square-foot weight room, a video room sweeter than your neighborhood Cineplex, a players' lounge complete with leather sofas and pool tables and, of course, a spacious office for the man whose craggy face long has personified the university.
When Ed DeChellis, an alum and former assistant, returned to Penn State as head basketball coach five years ago, he and his coaches shared a 1,600-square-foot space tucked in a nondescript corner of the Bryce Jordan Center. There were no pictures or artwork telling you that this was the basketball section of the building, just prison-cell-cinderblock white walls leading to a space just down the hall from the softball team.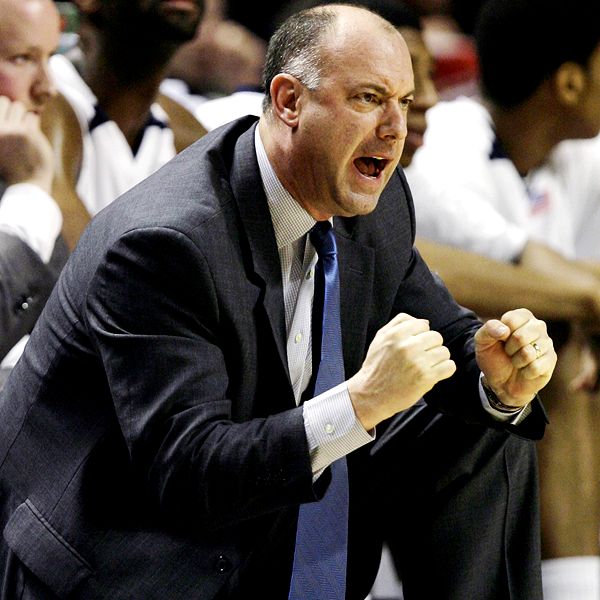 With no designated spaces, coaches stuffed envelopes in the hallway and broke down film in a space akin to a small walk-in closet. Without a video room or player lounge, the team watched film in the locker room.
The team had its own private practice court, a bright and airy space that looked like it could have been at the local Y. Neither the floor nor the walls were painted with Penn State logos.
The whole thing screamed afterthought.
"You take them over to see Coach [Paterno] and it was, 'Wow,'" said DeChellis, who frequently bypassed his own office space when giving recruits campus tours. "Then you brought kids here and it cemented the image you knew the other teams were giving kids -- 'Don't go to Penn State. They don't care about basketball.' That's exactly how it looked."
DeChellis didn't fault the administration. It wasn't that no one cared. It's simply that before him, no one asked. There was no alumni champion of college basketball arguing that the team needed upgrades, no one on the previous coaching staffs begging for renovations in a building built only in 1996.
Heck, the team didn't even have a director of basketball operations or video coordinator on staff.
But to DeChellis, the insufficient facilities only compounded what was already an uphill battle.
Of the Big 10 schools, five have national championship trophies in their cases. Indiana lays claim to eight Final Four appearances, Michigan State six.
Tradition for Nittany Lions basketball begins with its 1954 Final Four appearance, blips through two quick tourney appearances in 1955 and 1965, and endures 26 lean years until a stunning first-round upset of UCLA in 1991, followed by a crash-and-burn first-round loss as a No. 5 seed in 1996, and finally the unexpected Sweet 16 finish in 2001.
So when you can't counter tradition with the excesses of modernity, what can you offer? The answer at least partially explains the preponderance of lean years.
"It sends a message about the commitment to the program," Curley said. "It's the visual that recruits get to see that shows you're committed and willing to stay up with the changing times, that you're committed to giving your coaches and student-athletes everything they need to maximize themselves and their experience."
Three years ago, Penn State redid the locker room, replacing the cheesy, pressed-wood lockers with cherry wood, converting an unused space into a lounge complete with flat-screen TVs, and carving a video room in what was previously a visiting locker room.
And the last weekend in September, DeChellis and his staff moved into 4,000 square feet of office spaces that include a kitchenette, mailing/copying/faxing center, private conference room and separate area to host recruits.
The office space anchors what is now a Penn State basketball wing (the women's team has the same space in the building).
DeChellis believes the upgrades have helped the Lions lure players who otherwise wouldn't have visited, let alone committed. Sophomore point guard Talor Battle was ranked among the top 100 recruits coming out of high school, and Louisville native Jeff Brooks was a Mr. Basketball finalist in Kentucky as well as another top-100 player.
"People used to ask me, 'What have you been doing?'" DeChellis said. "This is what I've been doing. I finally feel like we're on an even playing field.''
It's 11:30 a.m. on the Saturday of the Illinois game. Kickoff is still eight-plus hours away.
All around Beaver Stadium is bedlam. Fans dressed in everything from Penn State Hawaiian shirts to Joe Paterno masks (which are as frightening as they sound) teeter on the edge of sobriety in the parking lots on the East end of campus.
A few wander inside the All-Sports Museum attached to the stadium, where DeChellis is seated at a table for a radio chat. No one gives more than a passing glance toward him.
Five hours later, it's much the same inside the Jordan Center when the team plays a pickup game/scrimmage before TailGreat, the pregame tradition featuring the Penn State Blue Band and cheerleaders.
There are people in the stands, but outside of a pair of rowdy students in goofy wigs who hoot and holler for big dunks, no one makes much noise. Some read the newspaper while others wander to the end-line area to play putting contests for prizes.
The average age is well on the high side of 40, with few young alums or students choosing to abandon their tailgates.
It would be insulting were it not for the cold reality of the situation: For there to be juice, there needs to be something to get juiced about, and the Lions simply haven't supplied it.
Penn State finished 15-16 last season and 7-11 in the Big Ten, its best conference finish in eight years despite losing its best player, Geary Claxton, to a torn ACL.
But aside from an NIT run and 15-15 finish in 2006, there hasn't been much to celebrate. In 2007, the Lions lost 14 of their final 15; in 2005, their last 12. The surprise Sweet 16 run of 2001 was followed up by consecutive 7-21 seasons.
"I used to ask myself, 'Would I come? Would I give up my night and come to watch a team lose by 30?' That's no fun," Cornley said.
Cornley knew what he was getting into when he signed with Penn State. He grew up in Columbus, Ohio, another town that you might say has a decent college football following.
He knew his team would be the understudy to a high-voltage star and that he'd swallow a lot of pride before ever getting the chance to puff out his chest.
"I ask recruits all the time, 'Do you have the mental toughness for this?'" Cornley said. "There's always the football issue. You've got guys on that team, not many but some, that walk around with the [Superman] 'S' on the chest and they don't even play. But people don't care. They're football players."
So why bother? Why did Cornley take all of this on?
He came, in part, because the Lions wanted him -- many teams weren't willing to take a flyer on a 6-foot-5 undersized power forward -- but more because he wanted to change things.
Cornley wanted to be the guy who turned the team around, who made Penn State basketball resonate as loudly as Penn State football.
There are days, of course, when he feels like he's pounding his head against a ceiling that's as hard as the steel that makes up Beaver Stadium.
But at the end of each day is the tantalizing dream that keeps him going. Cornley sees himself in the waning seconds of the Big Ten tournament championship as the final clocks tick off and Penn State begins to celebrate. The cameras find him on the court crying tears of joy.
A year later, Cornley is playing professionally somewhere. It's Selection Sunday, and once again Penn State's name is on the screen. The Lions are no longer a one-hit wonder.
They're rolling, rolling out irrelevance and squeezing into the spotlight.
"I'm getting goose bumps thinking about it," Cornley grinned. "Sure, it all can be frustrating. We get up at 6 a.m. We practice just as hard. We work just as hard. You fight through injuries and people say, 'Penn State is a football school.' But we're the only ones who can change that.
"I think we're close. Very close."
http://sports.espn.go.com/ncb/columns/story?id=3630400&lpos=spotlight&lid=tab5pos2